Many operators offer the Mt. Sinai sunrise excursion that includes transport from the coast to St. Catherine and back, food, guide, and perhaps a few hours sleep in a hotel. You can do the climb independently as well. Guides and camels are available at the Monastery – a guide per group is compulsory and camels are optional. They cost 125 LE. Although the sunrise is more popular, the sunset arguably offers better colours, and more importantly, peace and quiet. There are a few operators now who offer the sunset hike, but you still not likely to get more than a dozen people, if at all, on the top, as compared to up to a thousand at sunrise. Read more about the usual route.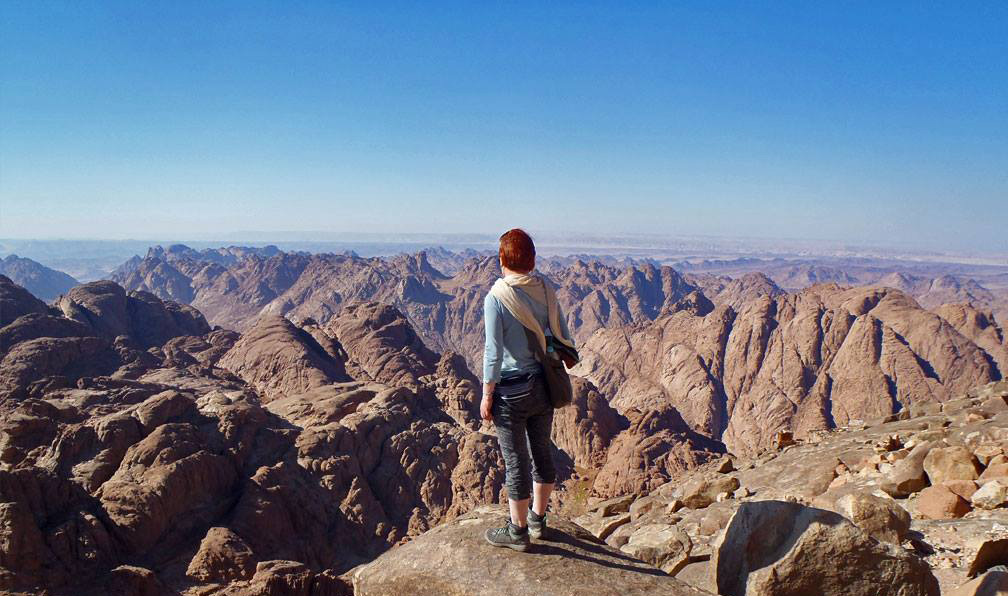 Those who are not in a hurry can discover an amazing world just a few steps off the main tourist path. The interconnected secluded basins atop the range harbour intact and ruined chapels, hermit cells, gardens, and lead to look-out points at the top of steep gullies with views on different areas of the surroundings, including a picture-perfect bird-eye view of the Monastery of St Katherine.  You can easily spend a full day discovering the range before climbing to the summit of Mt Sinai for sunset. You could then either descend back to town before total darkness sets in, or sleep on the top to see the sunrise too. The contrast between the peace of the sunset and the noise of sunrise will be shocking, but sleeping on the top is an interesting experience. Cafeterias offer free accommodation, as long as you hire a blanket and/or do some purchases, and there is also a comfortable cave managed by Bedouins. Some operators provide camp in Elijah's Basin.
More information under Places of interest -> St. Catherine and Mt. Sinai.